Font Gallery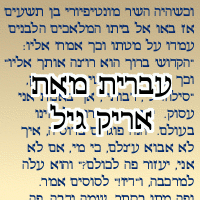 Here's the image I use for a banner for my Gill Hebrew font. The background text is the lyrics from a song about Sir Moses Montefiore and the foreground says "Hebrew from Eric Gill".
Here are some samples of my fonts in use. No vanity site (and let's face it, this whole place is for my ego as much as anything else) would be complete without pretty pictures of examples of the author's work.
Unfortunately, a lot of my fonts don't do well at low resolutions or onscreen; the hinting isn't very good, and the applications I use don't always do a good job rendering. So they may look a little uneven in these examples.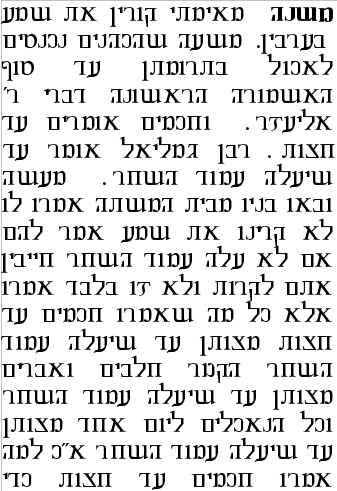 Here's a sample of my Itonai font. Itonai is Hebrew for newspaper reporter, and the font is made of curves and pieces from Times New Roman, redrawn into Hebrew letters. A very unusual look. The sample is the first Mishna of the Talmud. Note the boldface head-word, reading "Mishna:" Itonai Bold, naturally, is based on Times New Roman Bold. (set in a narrow column, naturally, because of its newspapery origins!)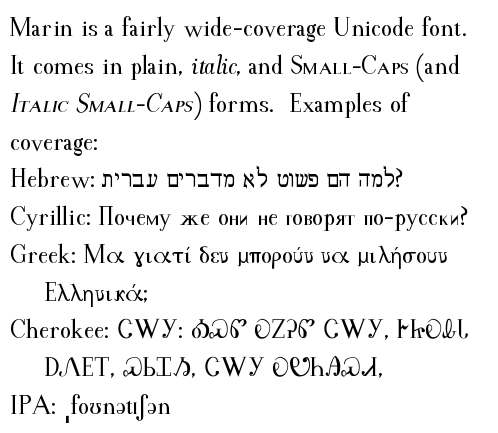 A sample of Marin, which you can actually download from here.

Bigger and more readable sample for Gill Hebrew. Text is from the same mishna.

Sample of Visible Speech font VSMeta. This is taken from Alexander Melville Bell's book, and is a representation of Lowland Scottish pronunciation of two lines of a Robert Burns poem Cotter's Saturday Night:
November chill blaws loud wi' angry sugh;
The short'ning winter-day is near a close;
Note the pronunciation of the -ng in short'ning as -n